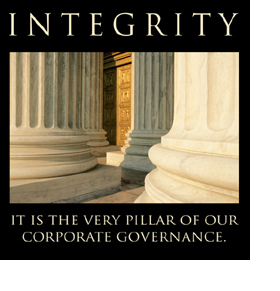 Superior Essex Inc. Compliance Reporting
Superior Essex Inc. has earned the reputation of a company with the highest integrity - producing and delivering quality products with outstanding customer service. We are proud not only of what we are accomplishing, but of how we are achieving success. This reputation is one we want to protect. To protect this reputation, we must continually strive to serve the best interests of our customers, employees and shareholders, while behaving as a responsible corporate citizen. This commitment requires, among other things, that we act with the highest ethical and legal standards.
Our commitment to the highest standards of integrity begins with ensuring that everyone across the Superior Essex organization understands our core values - values that define how we conduct ourselves. These values are the foundation of our Code of Ethics.
Most issues regarding the Code of Ethics and how it applies to a particular situation can be resolved locally before they become problems for the Company, employees or the public. The Company encourages employees to present ideas, raise concerns or ask questions about the Code-especially those of a legal or ethical nature. All managers are responsible for supporting and enforcing this policy by maintaining an "open door" for their direct reports and those who may reach out to them. While we hope that employees feel comfortable discussing any matter with their supervisors, there may be times when a supervisor cannot help.
There are a variety of resources available to help. You can contact any one of the following:
The next higher level of supervisor
The head of your business unit
Any member of the Legal Department
Local or corporate Human Resources
The Compliance Officer
While your questions and concerns can often be resolved at the local level, the Compliance Officer provides another way to address issues that cannot be resolved there and, in general, provides a way to report a concern or get information or advice regarding the Code of Ethics. You may contact the Compliance Officer in any of the following ways:
Compliance Officer

E-mail

 compliance@spsx.com               

Mail 

 Compliance Officer
 Superior Essex Inc.
 5770 Powers Ferry Road
 Suite 400
 Atlanta, GA 30327                  

Phone

 Call the Compliance Officer or a member of the Legal Department 
 by dialing 001-770-657-6000

In Person 

 Call the Compliance Officer or a member of the Legal Department 
 for an appointment
Anonymous Reporting System
While you should be able to resolve your compliance issues through these resources, there may be an occasion where you want to raise an issue or concern anonymously. For this reason, the Company has established the Superior Essex Compliance Reporting System. All messages submitted through this system are anonymous (unless you reveal your name) and are reviewed by the Company's Compliance Officer or someone on his or her staff acting under the Compliance Officer's supervision. The Company investigates and handles all messages appropriately. In responding to your concern or comment, you may be asked to provide additional information regarding your message, which you may provide with anonymity. The system will generate a 14 to 16-digit code for each complaint or comment, and you can use that code to track the status of your message and interact confidentially with the Compliance Officer or others using the system.
You may submit your message in one of two ways: Secure Web Form or Secure Hotline
Secure Web Form
Click here to file your case using a secure and encrypted web form.
Secure Hotline
Click here to file your case using a secure hotline from any phone.